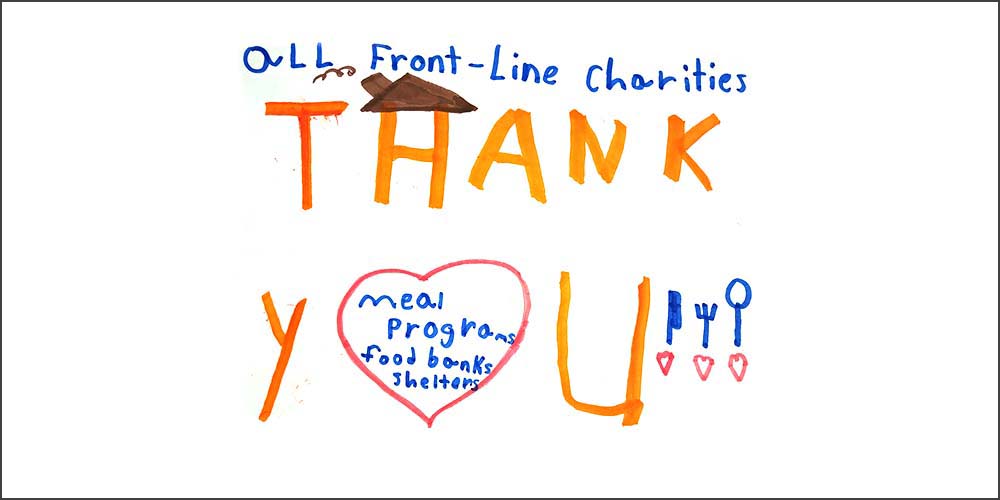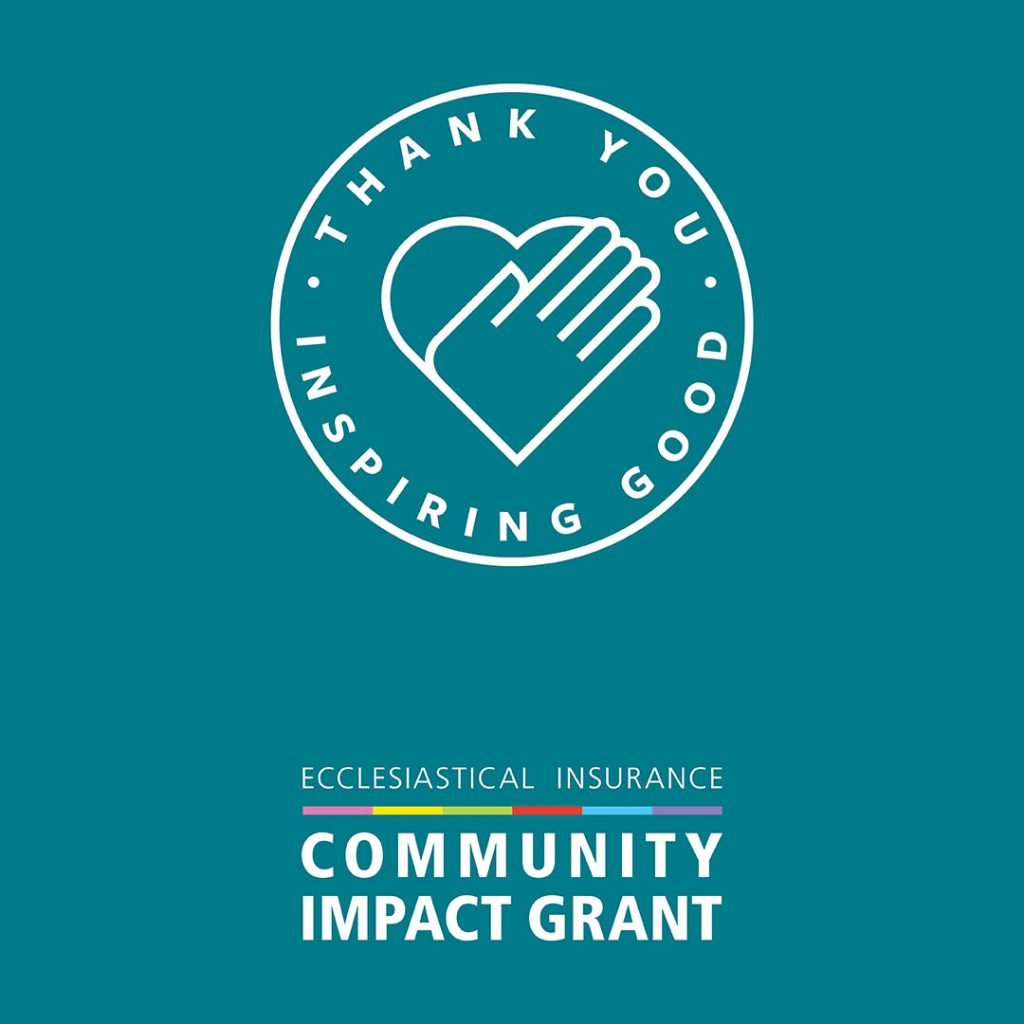 Our local charities are doing their very best but…
Recognizing the mounting challenges and diminishing resources that community-based charities are facing, Ecclesiastical made the decision to expand our national Community Impact Grant Program to include a COVID-19 component. Under the auspices of our owner, Allchurches Trust, we awarded grants to 38 registered charities across Canada. Among them are charities that provide shelter for the homeless; ensure a safe place for abused women and children; provide food to impoverished families; deliver meals to seniors and vulnerable people; and, provide solace and counselling.
We are inspired by their dedication and determination…
We are grateful to these charities and to all the other community-based organizations and non-profits that are working on the frontlines to provide our communities' most vulnerable people with emergency assistance and support.
And we are immensely grateful to the doctors, nurses, and first responders, and to all those who keep our hospitals clean and safe. They put their lives on the line to save ours.
The values that guide us…
While the COVID-19 crisis has changed our lives in ways we could never have imagined before, some things remain firm: the core values of trust, integrity, and compassion that define who we are as a company and as empathetic, responsible individuals. We are proud that these values continue to guide each decision we make.
Recipients
Alice House
Dartmouth, Nova Scotia
This grant will enable us to keep an additional staff member for approximately two months providing much-needed relief and support to our team as we strive to continue to support all the women we are serving, and sustaining those whose well being is threatened by not only the virus, but by domestic violence as well.
Beacon House Interfaith Society
Lower Sackville, Nova Scotia
The grant will help offset the losses from the closure of our retail store which supports our food and clothing banks, and to support our work with other organizations and their community outreach efforts.
Calgary Humane Society
Calgary, Alberta
This grant will assist our foster program in supporting those animals currently in foster care as their owners are not able to care for them due to the COVID-19 virus.
Calgary Women's Emergency Shelter
Calgary, Alberta
This grant will help us to ensure we can manage the increased demand from community members seeking help from our 24 Hour Family Violence Helpline during this public health crisis.
Caring & Sharing/Angel Tree Food Bank
Enfield, Nova Scotia
We will use the grant to purchase more fresh fruit, vegetables and hopefully meat for our clients who live outside of the city and so cannot access urban food banks.
Centre 105
Cornwall, Ontario
We have experienced an increase in the amount of food we are providing and Ecclestiastical's Community Impact Grant will help us meet this increased need, as well as allowing us to provide hygiene products and entertainment items to our clients.
Chestermere Regional Food Bank
Chestermere, Alberta
Receiving this grant will help support the people we serve with fresh food and essential non-perishable items, and to provide a delivery service to those who are high risk and self-isolating at home.
Chilliwack Community Services
Chilliwack, British Columbia
Our focus is child and victim safety and providing healing therapy during this difficult time. The Community Impact Grant will help to cover therapist wages and the cost of technology to deliver this service.
Church in Regent Park
Toronto, Ontario
Church in Regent Park has been deemed an essential service and the Community Impact Grant will help us to continue to serve a weekly take-home meal to 300 guests and deliver clothing, groceries and other supplies to the vulnerable who are unable to leave their homes.
City Street Outreach
Toronto, Ontario
The grant will help us bolster our mobilization in order to continue to provide food, clothing and protective gear to community housing and street dwelling citizens, with a focus on getting quality fruit and vegetables to children.
Community Kitchen Program of Calgary Society
Calgary, Alberta
We will be able to continue to provide two valuable anchor programs to the City of Calgary during the pandemic: the Good Food Box and the Spinz-A-Round Program, both proven to be essential food sources to people in our community who are living in poverty and food insecurity.
Dans la rue
Montreal, Quebec
The Community Impact Grant will help us cover additional expenses related to special measures needed to fight COVID-19, such as: increased disinfection and cleaning in all our facilities; the purchase of materials to guarantee social distancing and safety; and, the purchase of non-perishable food to prepare around 100 bags of food each week.
Eastview Neighbourhood Community Centre
Toronto, Ontario
In addition to purchasing more food and other necessities for our hampers, we will be able to provide our staff and volunteers with PPE to enable them to support the communities we serve.
Eden Food for Change
Mississauga, Ontario
The grant will help us meet the increased demand on our food bank programs, and enable us to continue to provide nutritionally balanced groceries to the individuals and families who depend on us.
Edmonton's Food Bank
Edmonton, Alberta
Support from Ecclesiastical Insurance will go directly towards purchasing high-need food staples, which will help us provide nutritious hampers to our community.
Engage and Change
Toronto, Ontario
We provide 3,000 summer kits to the homeless population and with the Community Impact Grant, we will be able to provide a greater number of kits and add protective hand sanitizer, wipes, masks etc.
Feeding Others of Dartmouth (FOOD)
Dartmouth, Nova Scotia
The grant will be used to help offset the cost of the changes we have made in order to still serve our community, such as enhanced cleaning protocols and buying supplies that are needed to continue to operate our soup kitchen seven days a week.
Fred Victor
Toronto, Ontario
Ecclesiastical's grant will be used to purchase grocery store gift cards for seniors, people with disabilities and single parents who must stay home, but in doing so have lost access to food banks or programs.
Good Shepherd Refuge Social Ministries
Toronto, Ontario
This grant will help us continue to provide food and assistance to anyone in need while adapting our services to ensure that everyone's health is protected from COVID-19.
Grace Inn Emergency Shelter
Belleville, Ontario
As the only emergency homeless shelter in Belleville, receiving this grant will allow us to continue to operate and provide our services to the most vulnerable population of the community, including those with disabilities.
Haven on the Queensway
Toronto, Ontario
This grant will help us purchase much needed PPE and hand sanitizer for our front-line workers and enable us to rent a second van for deliveries to feed high risk isolated clients and the increased number of homeless people avoiding shelters due to the higher risk of COVID-19.
Inn Out of the Cold Elgin
St Thomas, Ontario
This grant will be applied to the ongoing needs regarding food, guests' individual requirements and towards general operating expenses.
JFJ Hope Centre
Mississauga, Ontario
The Community Impact Grant will allow us to provide additional necessities to our clients; access to new technology to better connect with them to provide virtual budgeting, goal setting, job search and parenting workshops; and help us to purchase PPE and additional cleaning supplies for our space so we can remain safe.
Martha's Table Community Program
Kingston, Ontario
The grant will help pay for food and supplies that are critically needed to continue running the program throughout the pandemic as many of our donors are not in a position to support us moving into the spring and summer months.
Milton Transitional Housing
Milton, Ontario
This grant will be used to cover rental payments our clients are unable to pay due to lay-offs; increased utility costs as clients remain sheltered at home; and shopping support provided to our clients as needed.
Mission Possible Compassionate Ministries Society
Vancouver, British Columbia
The Community Impact Grant will be used to continue to compensate our associates during this time and to assist in fulfilling the need for funds to ensure the continuation of our weekly food program which serves 100 to 300 individuals.
Parker Street Food & Furniture Bank
Halifax, Nova Scotia
Our higher risk volunteers need to stay home and this grant will be used to supplement the wages of replacement workers in our food sorting and service areas, and help with the transportation and wage costs of delivering food to 40-50 shut-ins.
Red Door Family Shelter
Toronto, Ontario
Funds will be allocated to our weekly food bank service which is in high demand with mothers receiving essential food and household supplies. We predict that more of our clients will need this service as pandemic restrictions on workplaces continue, affecting employment and income levels for vulnerable families.
Regina Food Bank
Regina, Saskatchewan
We have seen a significant increase in hamper requests and this grant will support our out-bound operations and warehousing capacity to meet the growing demand for food in our community.
Romero House
Toronto, Ontario
The grant will allow us to enhance current services by increasing the weekly grocery card amount for families living outside of Romero House; offering emergency grocery cards to walk-in families facing serious food security issues; contributing to an emergency fund to support families in paying owed rent; and to support our community garden programs to improve food security for refugee families.
Share the Warmth/Partageons l'espoir
Montreal, Quebec
The Community Impact Grant will help maintain our Emergency Food Service which, since the beginning of the pandemic, has seen a 52% increase in new requests for food. As of mid-April, all food is being distributed through home deliveries only and the grant will support this service as well.
SPRINT Senior Care
Toronto, Ontario
This grant will go toward our COVID-19 Community Response Fund, a special fund created to protect seniors during this pandemic through the purchase of PPE for our frontline staff, including our nurses and personal support workers.
The Mississauga Food Bank
Mississauga, Ontario
This special grant will be used to provide food to vulnerable families, including the distribution of meals and snacks to kids who usually receive them at school or in before/after school clubs, and to support other food bank locations in Mississauga to ensure appropriate support throughout our area.
The Ottawa Mission
Ottawa, Ontario
The Community Impact Grant will be used to support the needs of our Covid-19 response including PPE for our frontline workers and volunteers, technology to ensure our clients remain connected with support workers and increased food services funding.
The Scott Mission
Toronto, Ontario
The grant will assist us in our commitment to stay open and care for our clients during the pandemic as we modify and increase core services with increased costs to safely deliver these programs (PPE, portable toilets and sinks, extra mattresses and deep cleaning service) as well as hiring an on-site nurse.
The Stop Community Food Centre
Toronto, Ontario
The Community Impact Grant will be used to help offset the monetary shortfall to the funding of our drop-in and food bank budgets caused by the cancellation of two major fundraising events due to the COVID-19 pandemic.
Winnipeg Harvest
Winnipeg, Manitoba
winnipegharvest.org
As the main food security provider for Manitoba, we will use this grant to purchase nutritious food for our hampers which are provided to Manitobans unable to make ends meet due to poverty.
Yonge Street Mission
Toronto, Ontario
This grant will enable us to purchase fresh, nutritious foods for the food bank and emergency food boxes for all those in need, as well as facilitate the revised mental health supports required to meet the growing need for connection and intervention for families at risk, street-involved youth and adults experiencing poverty.